7 August 2022
10 July 2022 – Unusual Plume
The Dot Moth!  A rather 'ordinary' name for a moth.  Many species have dots, so what makes this one so special?  The scientific name Melanchra persicariae (black complexion, peach tree) doesn't really give any clues, though it is more descriptive than just a dot.  There is a small orange dot on the thorax, but because of the shade I didn't even notice it at first.  What did stand out were the two white kidney-bean shaped white spots that made me think it might be a Common Rustic, but they are not dot shapes if you ask me.  I'd have a chat with Carl Linnaeus if I could.
Persicariae was the word chosen because the wings resemble the leaf of the peach tree but the coloring isn't that of a living leaf and the peach tree isn't a food source either.  The caterpillar will feed on nettle, field bindweed, groundsel, white clover, black currant ivy and hazel.
This is the first sighting of a Dot Moth in the gardens at Shandy Hall – the only previous example was captured in the Museum Gardens in the centre of York when the trap was used to see the difference between the moth populations in the city and in the country.  As it was captured outside Coxwold it didn't count as a 'new species', but it does now.  The moth can be found throughout the UK but is more common in the south.  We had three in the trap on this occasion so they might be increasing in number.
It took about two and a half hours to examine all the moths in the trap following a warm, still night.  Despite the nine Poplar Hawkmoths and an Elephant Hawkmoth there were well over a hundred moth packed snugly in the egg-boxes.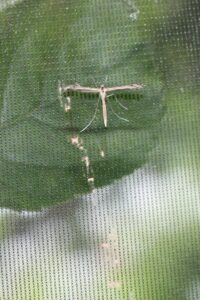 With so many moths it is easy to overlook some of them. One such example is the Saxifrage Plume Moth (Stenoptilia millieridactyla), which looked just like a fly to me on first observation, but taking a closer look it looks quite wonderful. It is probably the scarcest species of moth I have seen so far and it is described as 'very local'.  It was introduced to Britain from Ireland about 60 years ago.  The caterpillar feeds on saxifrage as well as other garden cultivars.  The moth has changed its name over time and used to be named Stenoptilia saxifragae.  The caterpillars mine the leaves of the foodplant and then feed externally on the leaves and flowers of Mossy saxifrage.
Our Saxifrage Plume was difficult to photograph so – apologies for the less than perfect image.  But two new species to the garden in one trap is a bonus.
Mackenzie McKillip (U Penn intern)