7 August 2022
13 July 2022 – Which is which?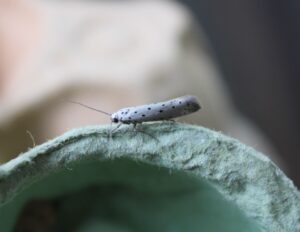 I think this is the most difficult species identification that I have attempted so far.  I have spent a couple of hours looking at some micro-moths which I can barely see, but even then they weren't as perplexing as this one.  I am still not 100% sure that my hypothesis (or hymothesis) is correct.  I contacted Dr. Fletcher and he is unsure (from the photograph on his mobile) as to which member of the Yponomeuta family this one is.  I present the case that this is the Willow Ermine (Yponomeuta rorrella).  I came close to identifying this specimena as Yponomeuta irrorella – they are separate species with just a slight difference in the spelling.
I'll try to explain why I think it is the Willow Ermine, and how complicated and difficult identification is.  I must stress at this time we cannot confirm this species…
Two key clues separate the two species.  The first is that irorella has only been reported in Southern England – specifically Kent and Sussex – so it is unlikely to turn up in Coxwold.   But not necessarily impossible.
There are two small, light-grey patches on irrorella that look as if they might be indentations that make a silvery shadow (like on rorrella) but they are part of the pigmentation on the fore wing.  It is difficult to see in the photograph but there are no such spots, only shadows.  Rorrella has a straight line of dots along the bottom, while irrorella has some that are slightly above that invisible line.   Because of variations within this family – the number of dots and their sizes – it can be quite hard to eliminate which species is which.  After all, the biggest difference between them is their dot patterning, which is still very similar.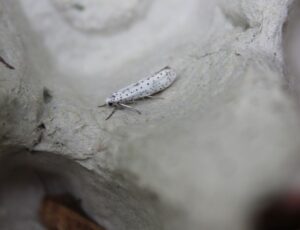 Here is another species to show how similar they are.  You can tell it is a little different, but because they are micro-moths the differences are not immediately noticeable.  I didn't see them at first.  Let's take a look.  There are more dots on this moth and they are just a bit smaller.  The dots extend all over the forewing. It looks like there is a mini trail of dots in between the bottom one and the 'middle' one (the trail that appears as the middle one in most other species of Yponomeuta).  So what are we left with?  The best guess is the Bird-cherry Ermine (Yponomeuta evonymella). This shouldn't be too surprising as it is very common and has been seen in the gardens at Shandy Hall on many occasions, unlike the Willow Ermine which would be new. There were two in the trap along with the (possible) Willow Ermine.
The scientific name is a little strange at first glance.  Yponomeuta means to 'make underground mines'.  Unfortunately this moth doesn't play Minecraft or dig underground.  It feeds gregariously from within a web which covers the leaves of the food source – sometimes the whole tree is enveloped.  The larvae are numerous and might seem to be mining through the web for food.
The other parts of the binomials rorrella and irrorella refer to 'roris' (dew) and irroro (to sprinkle with dew).  I suppose the little dots look like the moth is sprinkled with dew.  Evonymella comes from 'euonymus' a spindle plant which the bird-cherry (Prunus padus) is not related.   All very complicated.
Mackenzie McKillip (UPenn intern)