16 August 2015
16 August 2015 – Patron of Steampunk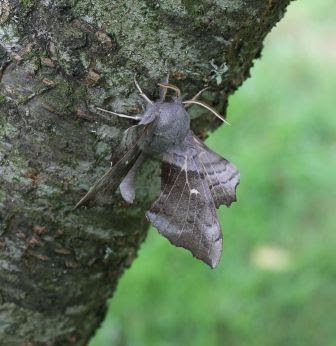 Poplar Hawk-moth (Laothe populi)
My first real introduction to the moth world was about 10 years ago at one of the early trappings at Shandy Hall. Amongst the hoard on that night was an Elephant Hawk-moth and I will never forget the sense of complete, total and utter awe on seeing that exotic vivid pink and green downy creature that seemed, at least to me, to belong to another place and time if not to another planet entirely.
Interest was further charged when the strange and ramshackle silky structures in the hedgerows that I had noticed were identified as home to small enclaves of hairy red and black caterpillars. It transpired that these were the result of the larvae of the Small Eggar – quite a rare moth. We have made several attempts now at trapping the adult moth but to no avail and the 'seldom seen' moth remains elusive and never, ever seen in Brawby.
Last Sunday's trap was the first undertaken in the height of summer. The previous attempts had been made in February/March and whilst failing miserably to land a trophy catch they were also highly effective in catching absolutely nothing else whatsoever. It was with a great sense of relief (followed by an even greater sense of anticipation) that Monday morning presented us with a full, fizzing and rattling trap of delights. The trap had been set in the shelter of a young walnut tree and other small fruit trees and these too had collected a fair few hangers-on which received our attention once the contents of the trap had been photographed, identified and released.
Careful analysis of the hoard is a twofold wonder: the visual curiosity followed by the world of nomenclature which is equally extraordinary and mysterious. You can't help but be drawn into the imagination of others, a sense of renewed history and learning.
The moths that particularly caught my interest can be seen below.
Poplar Hawk-moth (Laothe populi)
The Poplar Hawk-moth (Laothe populi) had to be included. It's a true showstopper that looks as if it was designed by Jules Verne with John Beresford Fowler as colour consultant. A placid, architectural machine leaf, patron moth of steampunk. I was absolutely delighted it was there for us.
Blood-vein (Timandra comae)
As if the name was not enough, this delicate moth with faintly red-tinged wingtips and a blood-vein traversing its open back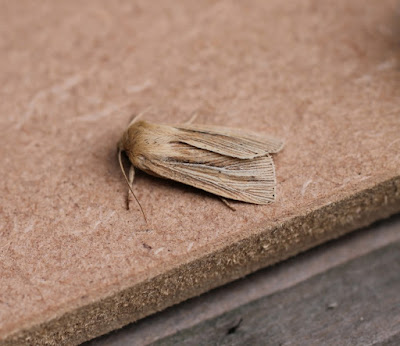 Shoulder-striped Wainscot (Mythimna comma)
The lines on the wings and the way that they fold…
Heart and Dart (Agrotis exclamationis)
Mesmerised by the markings – hearing the name spoken made me look in greater detail. Names are very important.
Other moths from the Brawby catch included : Chinese Character, Barred Fruit-tree Tortrix, Bird-cherry Ermine, Brimstone, Agapeta hamana, Eudonia lacustrata, Flame Carpet, Flame Shoulder, Magpie, Common Rustic, Dingy Footman, Dusky Sallow, Early Thorn, Orange Swift, Pebble Prominent, Udea lutealis, Shuttle-shaped Dart, Small Fan-footed Wave and Riband Wave.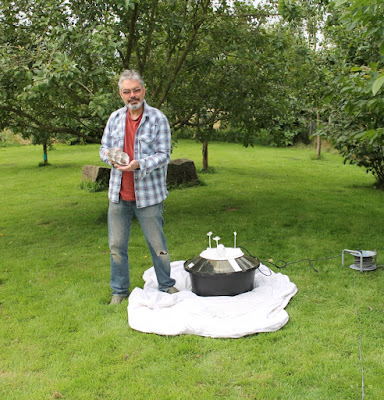 Peter Coates with moth trap
Post by: Peter Coates [Stonecarver]