19 October 2020
19 October 2020 – New Species for the Garden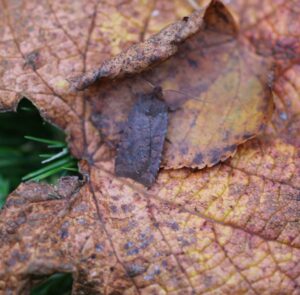 Dark Chestnut (Conistra ligula)
Perhaps Coxwold is a micro-climate. Until yesterday there seems to have been a long succession of chilly days, damp days and general wetness (not forgetting wind), all of which are not good for moth-trapping. The light will still attract the moths, for they continue to fly despite the winds and rain, but many don't make it to the sanctuary of the egg-boxes and end up soaked and damaged on the white sheet that the trap sits on.
But with the lawns cut and the leaves scissored by the blades of the mower, twenty-odd crates of apples were gathered for next year's juice, it seemed that last night might not be too bad and the trap was switched on. Although not plentiful there were more species than I thought there would be. Red-line Quakers, along with Hebrew Characters, Green Brindled Crescents and Beaded Chestnuts; Angle Shades and Lunar Underwings were found at the bottom of the trap and a couple of Dark Chestnuts were hiding in the egg boxes – all of these regular visitors. The Dark Chestnut (Conistra ligula) seems to be increasing in numbers in this locality.
One moth, tucked out of sight beneath the plastic lip of the trap, seemed unfamiliar. A grey moth but not an Early Grey or a Blair's Shoulder-knot but a moth I realised I haven't seen before – a Grey Shoulder-knot.
Grey Shoulder-knot (Lithophane ornitopus)
According to the Yorkshire Moths website this moth has increased considerably in numbers since 2004 but is still not common in the north. The black antler shaped mark at the base of the forewing is a key feature. It appears in September and is flying until November when the adult feeds on ivy flowers of which there is a plentiful supply in the garden at Shandy Hall. The moth will overwinter as an adult and mate in April. The caterpillar will survive on oak leaves and the cocoon will be constructed beneath the ground.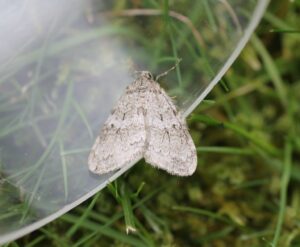 November Moth (Epirrita dilutata)
The Winter Moth (Operophtera brumata) is very similar. The Northern Winter Moth is similar too. Indeed I am not entirely convinced that this is a November Moth but establishing its exact identity is too complicated and without dissection probably not possible. The wing markings are only a guide and the colours (varying from brown to grey) overlap the species.
Still, another new species makes the total 447.