27 October 2015
27 October 2015 – Wormingford Moths
Bottengoms Farm, Wormingford
Shandy Hall dates from 1430. Bottengoms Farm is probably earlier, probably Saxon. A period of time that allows a wide enough margin to encompass the ancient feeling of this spot, in this dell, down a track. The day had been glorious with warm sun and not a breath of wind, winding down to a perfect, early Autumn evening. But the forecast was for a cold night. The trap was set with the hope that surely something mothy would be attracted to the mercury vapour lamp. Ronnie Blythe had kindly agreed to let me to introduce the moth-trap to this wonderful, luxuriant wild place. I was anxious in case nothing was to be found the following morning.
Deep-brown Dart (Aporophyla lutulenta)
The Deep-brown Dart was the first to be seen, clinging to the white sheet that had been laid on the grass. It was new to me. I wasn't certain that this was the correct identification but I was sure that I hadn't seen one like it before. Charlie Fletcher confirmed and told me that there is possibly a Northern version of this species. The scientific name refers to 'difficulty' (aporos) and 'muddy' (lutulentus) which pretty much sums up its appearance. But it was also a new moth so was imbued with that special quality of not having been seen before.
Merveille du Jour (Griposia aprilina)
This moth is the complete opposite to the Deep-brown Dart. I had already seen one in Monks Eleigh about an hour before and of all the possible moths that might be found I had hoped this would be seen at Wormingford. Anxiety dispelled, the rest of the egg-boxes were examined and a total of fifteen species was recorded – not brilliant but far, far better than I had expected.
Turnip Moth (Agrotis segetum)
The Turnip Moth looked very spruce with its distinct decal markings on the forewings. Not a common moth in the shadow of the Hambleton Hills but much more common down in Suffolk. This earthy moth is seen as a pest of root crops – the scientific name making reference to the 'Countryman of the crop-field'.
Lunar Underwing (Omphaloscelis lunosa)
The Lunar Underwing has been seen in all of the gardens visited this Autumn but this must be the most sumptuous of all of them. The thick plush around the head and the beautiful palette of browns and creams made this one stand out.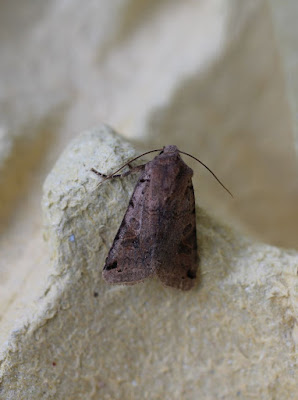 Brown-spot Pinion (Agrochola litura)
'A smearing on a wax writing tablet' is the meaning of litura. A good example for a writer's house. And 'of the field' agrochola. The author of Akenfield, Under a Broad Sky and The Circling Year (to name but three of Ronald Blythe's brilliant accounts of life in the countryside) has the perfect companion flitting around the old long house on Autumn evenings.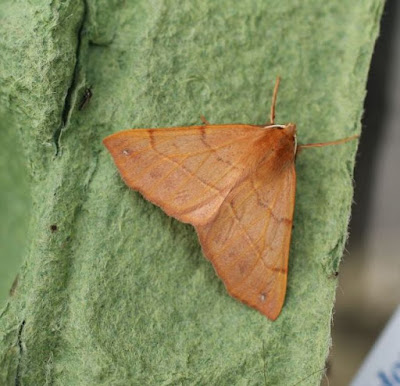 Feathered Thorn (Colotois pennaria)
The Feathered Thorn (Colotois pennaria) is a handsome moth and always a pleasure to see. The other species trapped that evening were: Setaceous Hebrew Character, Rosy Rustic, Red-line Quaker, Chestnut, Beaded Chestnut, Yellow Underwing, Sallow and Common Marbled Carpet. I thought there was a Common Rustic as well but the flight times don't correspond with Suffolk Moths 'What's Flying Tonight', so one moth is unidentified. [Wormingford is in Essex but only just over the Stour so apologies to the excellent Herts and Essex Moths.]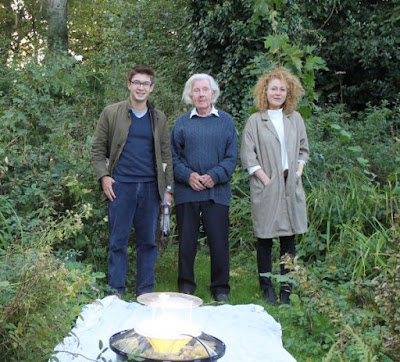 Ronald Blythe and friends with moth lamp