29 June 2020
28 June 2020 – Post Script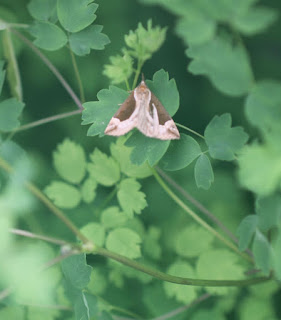 Beautiful Snout (Hypena crassilis)
I hoped there might be another Beautiful Snout in the trap and there was – still not in perfect condition but much better than the first. The velvety, chocolate-coloured wing markings were clear and the little distinctive lines on the wing-tips easily seen. I have looked out for bilberry bushes (the larval foodplant) in the immediate locality but found nothing. I suppose if there are repeat visits next year then it might be an indication that a colony has established itself – or it might just be the mighty winds that we have experienced recently.
Shaded Broad-bar (Scotopteryx chenopodiata)
The Shaded Broad-bar I have seen only once before in July. The scientific name is taken from the Greek for 'wing of darkness' where the reference is to the grey, shadowy stripe across the forewings, with outlines the colour of Caramac.
These two are representative of a considerable number of moths captured on Friday night in time for the National Gardens Scheme opening – the first this year, due to the virus. Since that balmy, sunlit evening it has rained and rained…