3 August 2015
3 August 2015 – Luddington-in-the-Brook
Small China-mark (Cataclysta lemnata)
No mercury vapour light was needed to lure this beautiful micro-moth as it danced a mysterious and convoluted flight just over the surface of a garden-pond. Another joined it in flight – and then another. I hadn't seen the moth before but guessed it might be a China-mark because of the proximity of the pond – and I was right. The Small China-mark (Cataclysa lemnata) is the moth which emerges from the larval state after the caterpillar has spent some time underwater and has then fashioned a cocoon of duck-weed. I will keep my eye on the pond here in Yorkshire and hope to record it as a new visitor.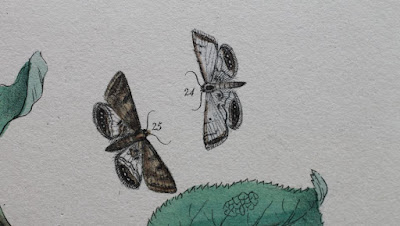 Small China-mark (illustration male and female)
The hand-coloured illustration from British Moths and their Transformations (Westwood and Humphreys) shows the male and female Small China-mark
Least Carpet (Idaea rusticata)
Many moths are astonishingly beautiful and the best of those, in my opinion, are Carpet moths. The Lime-speck Pug and the Foxglove Pug must be included in any list of beauty, but the Least Carpet (above) is the best I have seen for a long time. Neither of these moths are to be included in the Shandy Hall list as they were both trapped and identified in Luddington-in-the-Brook, where Carry Akroyd has her home and studio. The Least Carpet is common in the Thames Valley but there are only 14 records of its appearance in Yorkshire. Having seen one for the first time it should make it easier to spot if it does decide to extend its range to Coxwold. The patterns on the wings appear to be layers of cream, silk and chocolate all piled up together.
Least Carpet Moths (male and female illustration)
Dot Moth (Melanchra persicariae)
Another moth that hasn't been recorded at Shandy Hall is the Dot Moth (Melanchra persicariae) despite the fact that it is fairly common and the numbers are stable. This moth could well turn up in the garden at Shandy Hall or perhaps in the gardens of the Yorkshire Museum where we will be moth-trapping tomorrow night. The 'catch' can be seen if you happen to be passing through the gardens on Wednesday between 8 and 9.30 in the morning.
Dot Moth with food plant and caterpillar (illustration)
The illustration shows the Dot Moth (Fig 11) beneath the caterpillar which is climbing up the stem of the food plant. Persicariae, part of the scientific name, refers to Polygonum persicaria. There seems to be some confusion regarding the classification of this plant as it is also included in the Bistort family. The vernacular names of this plant are many – Adderwort, Pink Pokers, Twice-writhen, Passion Dock, Oysterloit and Easter Ledger to name but six.