14 July 2021
Moth Night – 10 July 2021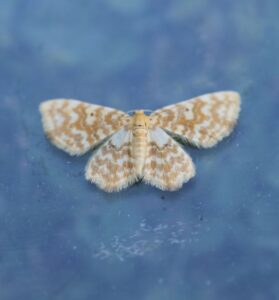 Small Yellow Wave (Hydrelia flammeolaria)
Only one of the three evenings designated for National Moth Night was really suitable for trapping but that one gave a good cross-section of species. A newcomer to moth-trapping (like ten year old Thomas was) saw moths that displayed a wide variety of forms, colours and patterns.
The Small Yellow Wave (Hydrelia flammeolaria) and the Green Arches (Anaplectoides prasina) have only been seen a couple of times so it is good to be reminded of their presence. The scientific name seems a bit of a contradiction – 'watery flame' but the flammeolaria refers to the ochre coloured stripes that decorate the wings of this species.
Green Arches (Anaplectoides prasina)
The Green Arches was looking particularly fresh and the clear, green colouring indicates that it is probably recently emerged from the pupa. The caterpillar feeds on honeysuckle, bilberry and primroses.
A list of moths identified in the trap included:
Common Wainscot, Garden Grass Veneer, Poplar Hawk-moth, Large Emerald, Swallow-tailed Moth, Orange Swift, Acleris laterana, Yellow-tail, Common Footman, Beautiful Hook-tip, Small Fan-foot, Light Emerald, Bright-line Brown-eye, Flame, Burnished Brass, Green Pug, Brindled Pug, Marbled Minor, Clay, Broad-bordered Yellow Underwing, Snout, Barred Straw, Double Square Spot, Plain Golden Y, Beautiful Golden Y, Blood-vein.