Education and Learning
A great many enjoyable activities happen at Shandy Hall which could also be classed as 'education'.
Workshops for adults
Many workshops for adults have been held, ranging from paper marbling to writing haiku; botanical drawing to blacksmithing; moth identification to cartooning. Morris dancing, church-crawling, nature walks, and catch-song singing have also been attended with enthusiasm.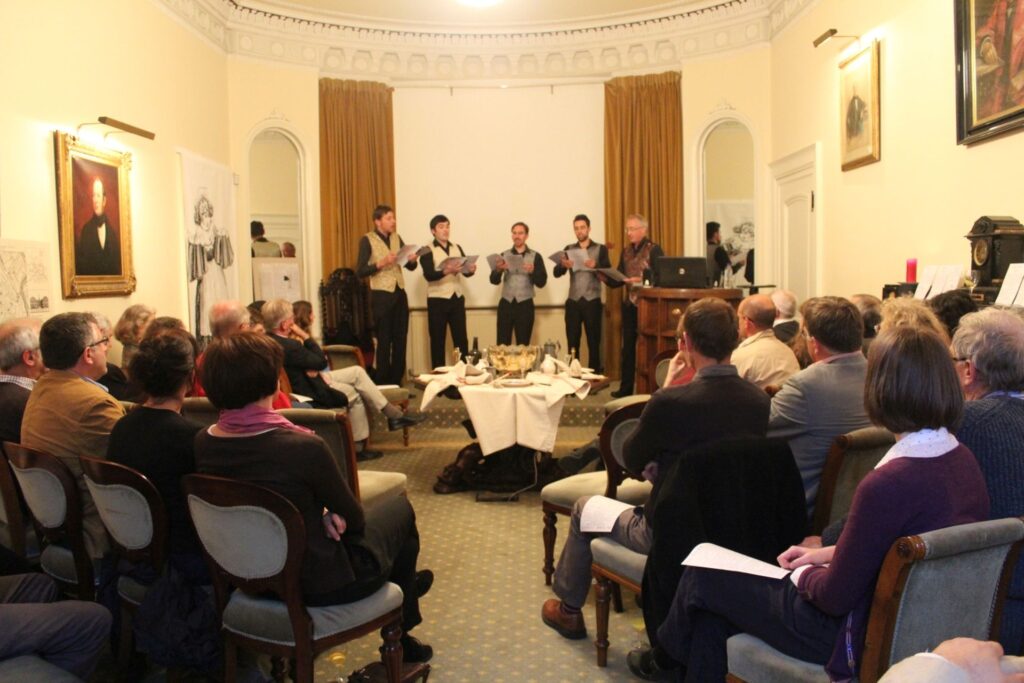 Programmes of talks and readings, concerts, films and theatrical performances
Talks and readings, concerts, films and theatrical performances have taken place on a diversity of subjects, suitable for a variety of ages.
Work with children
Classes for children have included bird-ringing, sea shanty singing, map-making, portrait painting and writing letters with a quill. Shandy Hall welcomes pupils and students of all ages and abilities.
Larger projects with children
A particuarly large project, a performance of one of Sterne's sermons interspersed with music, was undertaken for the Laurence Sterne Tercentenary in 2013.   For this we worked with children from three local schools, who sang words from the sermon and from Sterne's London memorial stone, beautifully set to music specially composed by David Owen Norris. Trained over a period of months by choirmaster Jonathan Brigg, these chidren, some of whom had never sung in a choir before, were able at the end of the project to give a performance in the largest venue in the region, York Minster, working alongside professional musicians and with actor David Bradley, (who they knew from the Harry Potter films).
Below is a very short clip of their first and only rehearsal together, and there is a a larger film on the project on the anniversaries page. The DVD of the whole performance can be found in the shop.
School and student workshops
School and student workshops have taken place in the Shandy Hall gallery; in the 15th century old kitchen; in the clock-tower of Coxwold church; in the gardens that surround Shandy Hall; in Coxwold churchyard; in the Wild Garden and in Coxwold village hall. Some workshops take place in the classroom. Many of these workshops are connected with specific exhibitions but others are tailor-made to suit the requirements of a school or university.
Often the focus is on the non-linear and experimental aspect of Sterne's writing, encouraging the student to forget the predictable 'beginning, middle and end' and concentrate on creativity and imagination.
Workshops are lead by the curator (or by artists/writers-in-residence) and are devised to cover a wide range of approaches to fiction, illustration and book-making.
See also our mini-site Reading the Past, Writing the Future, which encouraged pupils to explore the history, art and craftsmanship of their local church.  A Church Times article about it here.
University Induction week visits
Universities have brought first-year students to Shandy Hall.  Visits have often become an annual fixture as part of induction week, serving as an enjoyable way for students to get to know each other and their tutor, as well as being an introduction to their subject of study. The students spend most of the day in the village, visiting the church, having lunch at the tea-rooms and holding creative writing/art workshops in the gallery at Shandy Hall. The curator can hold special workshops on non-linear narrative and contemporary fiction in the Hall itself.
Other educational projects have included:
University of York first year project Tristram Shandy opera
Blacksmithing photos
Learning eighteenth century dance as part of making the film ''Wings of Time'
Taking part in an archaeological dig in Coxwold.
Art projects. The University of Teesside Graphic Design Department has been engaged with producing work for display and sale in connection with exhibitions at Shandy Hall, when students produced outstanding work for their modules, towards their degrees.
Education groups that have visited Coxwold and worked on projects in association with Shandy Hall include:
Carlton Miniott Primary School; St Peter's C of E School, Brafferton; Topcliffe CP School; South Kilvington C of E School; Sessay C of E School; Crayke C of E School; Sea View Primary School; Fulford School, York; Husthwaite Primary School; Riverside Community School, Tadcaster; Portsmouth Grammar School; Upton Hall School, Wirral; Boroughbridge High School; Fulford Secondary School, York; Easingwold School, York; The University of York; University of Teesside; University of York St John; University of Northumbria; Leeds Trinity University College; Leeds Beckett University; Yamanashi Prefectural University (Japan) University of Pennsylvania (annual student internship); University of Glasgow; Goldsmith's College, London; University of Nottingham.
Partners have included:
York Museums Trust
York Museums Trust have been partners and have kindly loaned items from their collections for various exhibitions and participated in other projects. The Trust has also mounted exhibitions at York Museum, and set moth traps in the Museum Gardens.
Yorkshire Wildlife Trust assisted with the 'Winged Skull' moth exhibition, The Moth Anthology and have also advised on the development of the wild garden as a wildlife habitat.
British Trust for Ornithology Held bird ringing sessions during 'A Bitter Draught' the starling and slavery project.
Coxwold Local History Society have collaborated with us on various projects to do with Coxwold and St Michael's Church.
Institute for the Public Understanding of the Past (IPUP)
Shandy Hall hosted an international conference on re-enactment: a collaboration of academics, filmmakers, curators, and visual artists interested in the relations between memory and re-enactment and the imaginative relationship between past and present.
This was based on Tristram Shandy's Uncle Toby and Corporal Trim (the first war-gamers). Corporal Trim used re-enactment of the Seige of Namur as therapy to help his master recover from the trauma of injury.