19 April 2014
17 April 2014 – Utamaro and the Caterpillar
Utamaro Arctiidae
By the image above it is clear that last night was not a good night for moths in Coxwold. The bats were out early, circling above the quarry and zipping around the tallest branches of the ash trees – mirroring the micro-moths among the grass stems beneath. Except there were no micro-moths beneath and very few macros anywhere. Too chilly. Enter Utamaro (1753 -1806) and his Picture Book of Crawling Creatures. Within that book this hairy member of the Arctiidae family can be seen crawling upside down on the stem of a flowering vine. The book was published in 1788 and can be seen on the Fitzwilliam Museum website.
Moths of the Arctiidae family have larvae that only eat plant material and spin cocoons for pupation – examples include the Tiger Moth, the Ermines – and the White Satin Moth (Leucoma salicis).
White Satin moth (larva)
The image of the White Satin Moth caterpillar (above) is evidence that overwintering itself is over and those tiny, crawling creatures (last seen on the blogpost on 7 January) are now emerging from their temporary, spun-silk, sleeping-bags and eating the fresh willow-leaves that have been provided for them. Their five month wait is over. During their time of stillness they seem to have developed a form of communication that is bringing them together in small flashmob squadrons.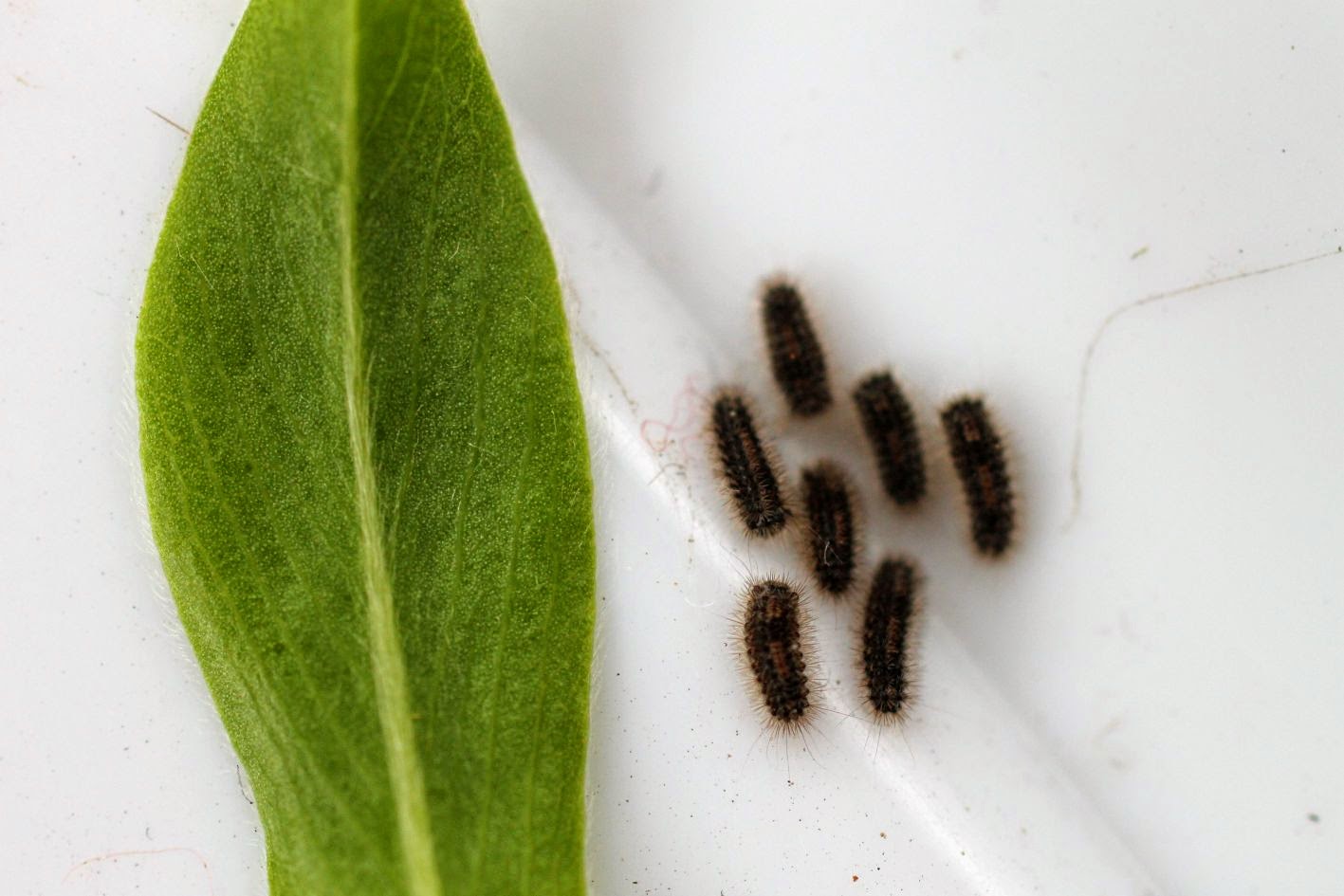 Caterpillar flashmob
Looking more carefully it seems that the White Satin moth caterpillar may be the species that Utamaro has illustrated. Compare his image above with Humphreys (below) – the caterpillar is drawn on a stem of Salix doniana (Don's Willow) and willow is keeping the caterpillars at Shandy Hall fed. A link with Japan, perhaps.