6 August 2012
4/5 August 2012 – Abracadabra
Catoptria falsella
Agriphila selasella
Catoptria falsella
has been spotted once before when Dave Chesmore was identifying moths at Shandy Hall, but this is the first photograph to appear on the blog. However, Agriphila selasella is a new record – if it is correct. The longitudinal stripe on the forewing has a hint of banana colouring which distinguishes it from Agriphila tristella, a moth already recorded. The agriphila part of its identity is easy to interpret (lover of fields) and selasella is from the Greek selas meaning 'brightness'. Tristella is the opposite 'sadness – from the heavy shading the moth sometimes has on the forewing.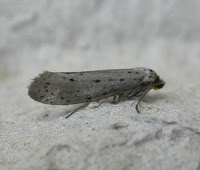 Yponomeuta padella
Yponomeuta padella
seems the most likely identity of the next moth. Each Yponomeuta description, photograph and drawing (there are eight possibilities) has been carefully compared with the living specimen and the grayish form of padella seems to be this moth's most likely identity. 'Y. malinellus cannot be separated from Y. padella except by rearing from larvae', I am reliably informed. First catch your larvae… Either way this moth is a new species but represents a number of possibilities. It is definitely not a Bird Cherry-Ermine – the only similar species already recorded.
The Honeysuckle Moth is new : Ypsolopha dentella – 'high-crested and wing-toothed'. A rather sharply defined insect is the Honeysuckle and its distinctive shape should make identification straightforward.
Honeysuckle Moth (Ypsolopha dentella)
Two macro moths have been recorded this weekend: The Magpie (Abraxas grossulariata) is the first. Abraxas is a Coptic word said to have been coined by Basilides, an Egyptian Gnostic, to express 365 – the number of days in the year. Abracadabra comes from the same source. Grossulariata refers to the gooseberry which is the food source. There is something startling about The Magpie – the combination of colours gives it a dramatic and almost talismanic appearance.
Antler Moth (Cerapteryx graminis)
The Antler Moth (Cerapteryx graminis) was quite easy to identify with the 'keras' (horn) marked on the 'pterux' (wing). The Antler Moth feeds on grass (graminis) and this moth remained motionless all day until its evening release. With the Yponomeuta – whichever one it is – counting as one species, then the total number now stands at 233.
The Magpie (Abraxas grossulariata)